Takstar Statement on Counterfeit Products
Enterprise Press
Release date: 2022-11-16
Dear Takstar users,
We sincerely thank you for your patronage to our products.
Recently it has come to our awareness that there are counterfeit products circulating in various markets, causing not only economic loss to our customers, but also seriously affecting our brand image.
In view of this, Takstar hereby declares: the barcode and anti-counterfeit code on Takstar products are crucial for verifying product authenticity. And damage to the barcode, anti-counterfeit code and other identification marks will render us unable to verify the product origin. Please understand that, for products not sold through our official channels, we cannot guarantee their quality and provide after-sales service.
We welcome users to report any illegal sale of our products that violates Takstar's rights and interests. We will reward the whistleblower and pursue legal responsibility of the infringement.
About barcode and anti-counterfeit code:
All series of products manufactured by Takstar come with an anti-counterfeit barcode sticker with a scratch coating. And each product has its unique barcode. Products can be deemed fake if:
1) there is no anti-counterfeit barcode;
2) no scratch coating on barcode sticker;
3) identical barcodes on multiple products;
4) anti-counterfeit code does not exist;
5) too many query records on the anti-counterfeit code.
Examples of barcodes on counterfeits:

Example of barcode on genuine products: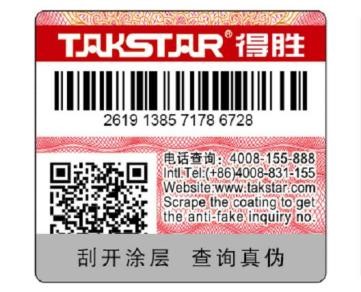 Anti-counterfeit verification:
1. Scan the QR code on the anti-counterfeit sticker.
2. Enter this website to inquire: http://english.t3315.com/default.aspx
Thank you for your continuous support of our products. We hope that all users can stary alert and away from counterfeits. If you have any questions, please contact us as follows:
Tel: +86-752-6383652 Fax: +86-752-6383952 Email: sales@takstar.com
Sincerely!
Guangdong Takstar Electronic Co., Ltd.
November 16, 2022