Audio Application | Tsinghua (Qingdao) Academy Of Arts And Science Research
Enterprise Press
Release date: 2022-08-20
-Project Background-
Tsinghua (Qingdao) Academy Of Arts And Science Research is co-founded by the People's Government of Qingdao, Tsinghua University and the Management Committee of Qingdao West Coast New Area. Officially registered in Qingdao on December 2018, it is the ninth authorized academy of Tsinghua University in China and the only one in Shandong Province. It is also the only authorized academy of Academy of Arts & Design, Tsinghua University. The Academy is directly managed by Tsinghua University.
-Client Demand-
Based on the goal of "introducing high-end talents and teams from home and abroad, strengthening interaction and communication, cultivating innovative talents, and building a base for the convergence and cultivation of high-end talents", the Academy decided to upgrade their conference room system. The system should be able to simplify audio amplification, improve speech intelligibility and facilitate various seminars, training and daily meetings.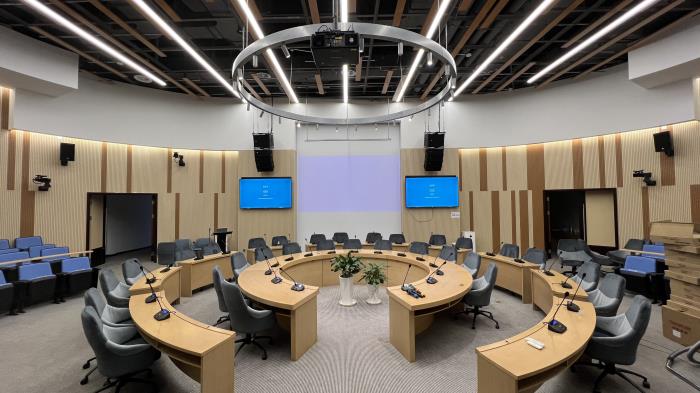 Conference Room, Tsinghua (Qingdao) Academy Of Arts And Science Research
-Solution-
The audio system, crafted after site survey, comprises the DG-S100 hand-in-hand conference system and X4 4-channel UHF wireless microphones, along with peripherals such as FE-224N feedback suppressor which automatically filters live wave, lowers feedback and ensures audio quality.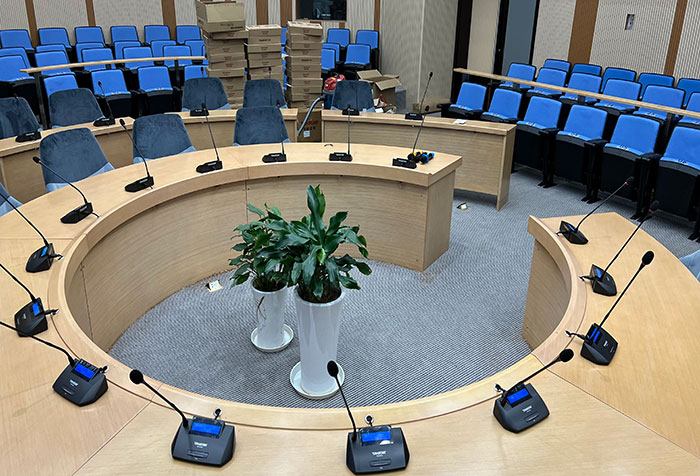 DG-S100 Desktop Wired Conference System
DG-S100 Conference System utilizes hot-swappable daisy chain connection using 8-conductor T-shape cables, and supports multiple conference modes including Free/FIFO/Limited/Chairman-Priority. The units retain their settings even if unplugged. The microphone units are divided into Chairmen unit and Delegate unit, which can be freely combined in a total of 250 units max. Chairman units are also prioritized to allow you to manage the floor.