Takstar Provides a One-stop IP Broadcasting System for Pingluo No. 2 Middle School
Enterprise Press
Release date: 2021-02-19
Founded in 1979, Pingluo No. 2 Middle School of a long history has developed into a relatively large middle school in the Yinbei area after merging with the high school of Pingluo Railway Station Middle School. The school covers about 17.29 acres and has 173 faculty members, 2,482 students, and 42 classes. The school is developing under a brand-new concept of building a high-quality middle school.
To better develop itself by promoting its information construction, improving its soft power on education, and providing first-class teaching facilities and services for its students and teachers, Pingluo No. 2 Middle School entrusts Takstar Engineering Team to tailor a one-stop professional audio system integrating a digital IP network broadcasting system, a digital conference system, and a professional sound reinforcement system for it.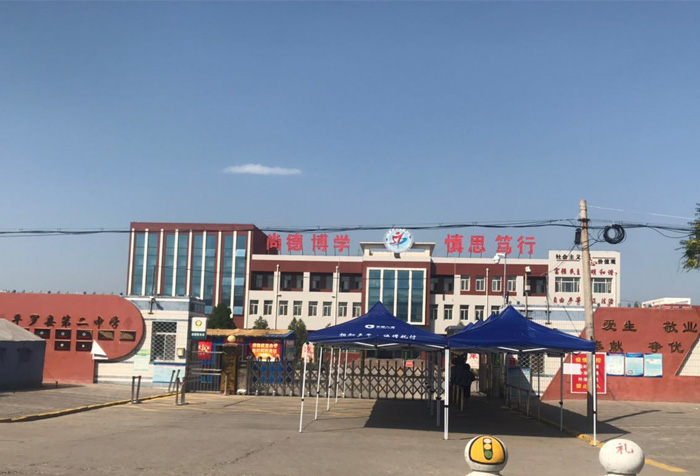 Takstar Engineering Team designs a broadcasting system based on the school's architectural structure and design standard to meet the use requirements. The IP broadcasting system mainly covers playgrounds, 42 classrooms, and the corridors of dormitory buildings, office buildings, and teaching buildings. EBS-10W on-wall speakers, ENS-10Y1 IP network active speakers, and EBS series waterproof speakers are installed in these areas. The master control equipment is installed in the school's broadcasting room to meet the needs of regular bell ringing, school activities, recess exercises, background music.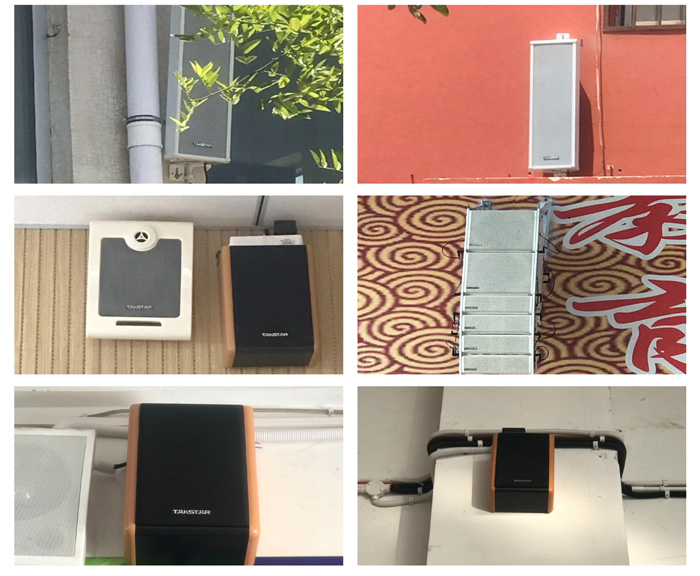 IP Network Broadcasting System
The equipment powers on and off automatically according to the setting, and multiple sets of work and rest time can be programmed 24 hours a day (accurate to seconds). Ringtones and music for recess exercises and other activities play automatically—different ringtones and rest time can be set every day to play songs, and music for flag raising, recess exercises, eye exercises, and other activities to enrich campus life. The songs and music are broadcasted to a specific area or the whole campus through the master control software for real-time broadcasting to meet diverse campus broadcasting. The IP network broadcasting system can also play online multimedia programs and programs produced by the school via the campus network.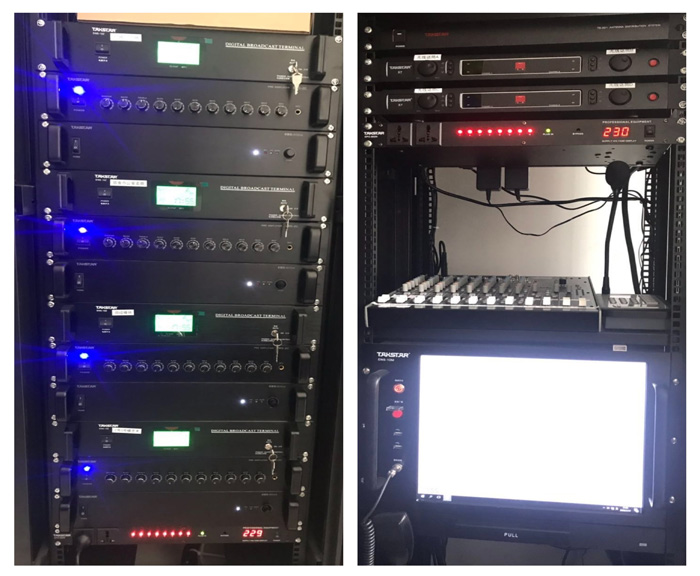 Digital Conference System
Its multifunctional conference hall adopts Takstar's wireless conference system with X4 and X6 wireless microphones as the sound source equipment and EKS-101 full-range speakers as the sound reinforcement equipment. EKA-403 power amplifiers and XR612FX mixer consoles are used as the peripherals to enhance system stability.
The system delivers authentic and articulate sound via its smart, convenient, and practical conference mode to meet the school's needs of holding various lectures, academic activities, open classes, and large conferences. It features full voice, solid bass, high fidelity, clear sound, attractive appearance, flexible installation, and convenient use.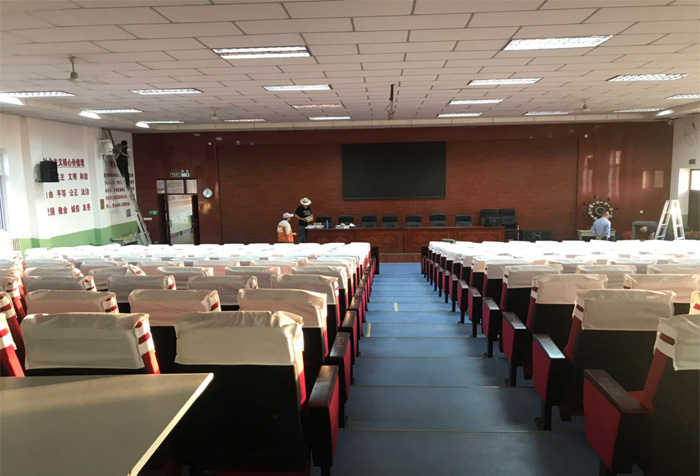 Professional Sound Reinforcement System
The system adopts ECA-032 line array full-range speakers, ELA series stage monitors as the sound reinforcement equipment, TS-8808 wireless microphones, TS8807PP lavalier microphones as the sound source equipment, and XR-1016FX mixer consoles, EKX-306 audio processors, EQ3102 equalizers, EPO-802N power sequencers as the peripherals.
The system meets the school's needs of holding various cultural activities, medium-sized and large-sized meetings featuring phenomenal sound quality, clear voice, and high fidelity. With centralized control and management, it is convenient to maintain and manage the system. Pro speakers and stage lighting together bring outstanding auditory and visual experience to the audience.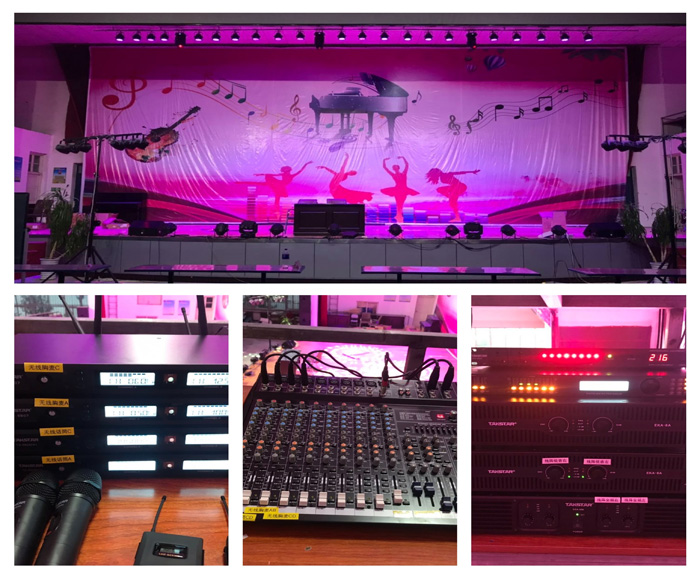 As a well-known electroacoustic brand in China, Takstar has been dedicated to making electroacoustic products of beautiful timbre, clear sound transmission, stable performance, and convenient use to its users, and providing high-quality, efficient sound transmission solutions that meet the needs of users. Takstar Engineering Team reasonably adopts electroacoustic products according to different scenarios in Pingluo No. 2 Middle School to ensure the sound quality and stability of the equipment and at the same time satisfy the rich diversity of campus activities, which is highly praised by the students and teachers.