Takstar Audio Application | Hainan Branch of ChinaPower Construction Group Ltd.
Enterprise Press
Release date: 2023-01-05
-PROJECT BACKGROUND-
ChinaPower Construction Group Ltd. is a subsidiary of ChinaPower Group Ltd., a "Fortune 500" enterprise. The company engages in housing construction, hydropower construction, real estate development, hydropower development, and fabrication and installation of metal structure, gates and light steel structure. Awarded many times as "National Advanced Construction Enterprise" and "Excellent Enterprise in Overseas Project Contracting", it has made important contributions to national infrastructure such as national energy construction, housing construction, water conservancy and hydropower construction, and road and bridge construction.
-PROJECT REQUIREMENTS-
Recently, in order to facilitate communication and coordination of the environmental treatment and ecological restoration project of Yanchunling landfill site, the Hunan branch of ChinaPower Construction decided to upgrade their conference room audio system. The project, being vocal-focused, is required to have low distortion, high vocal clarity, and gentle but evenly-distributed audio with minimum acoustic feedback.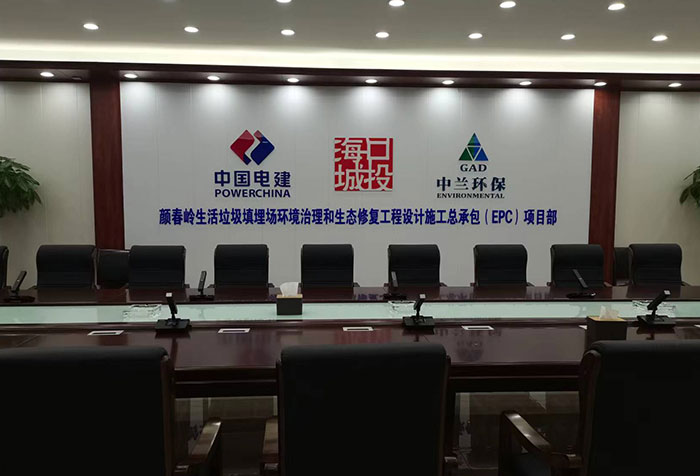 -SOLUTION-
After site investigation, the Takstar (Hainan) team formulated a system that consists of ESC-044 column speakers, EA-2 power amp, AM14 mixer, FE-224N automatic feedback suppressor and EPO-802N power sequencer. The system is able to offer high-fidelity audio with even sound field coverage and minimum acoustic feedback for long periods of time. For audio pickup, it uses DG-U100 wireless conference microphone system for flexible and interactive management of various types of meetings/reports.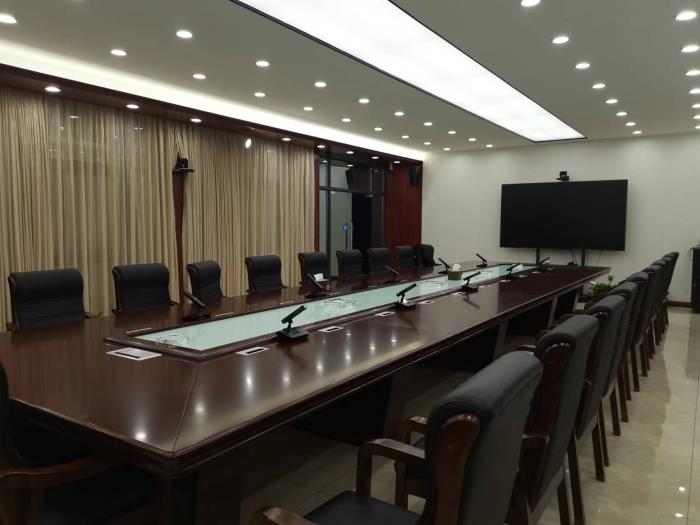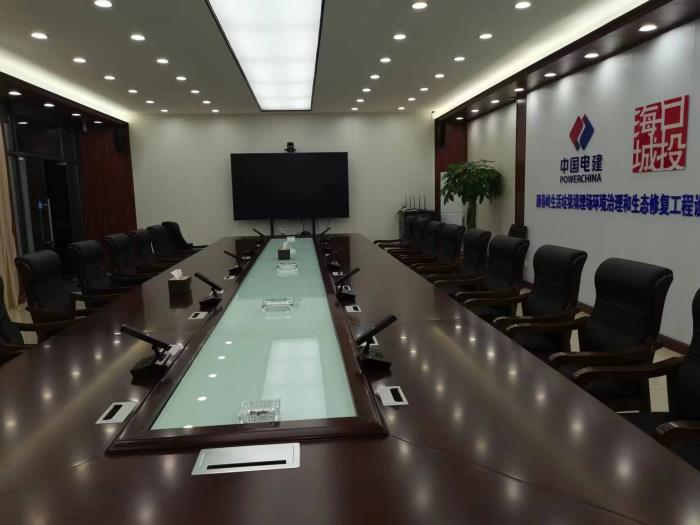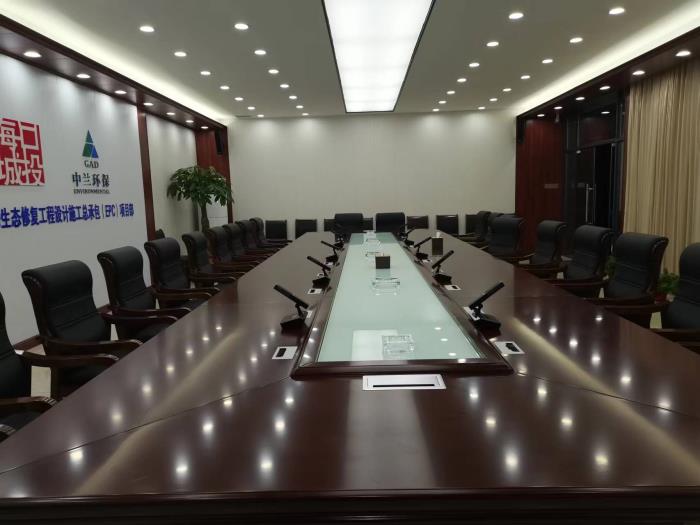 -PROJECT FEATURES & ADVANTAGES-
1. DG-U100 wireless conference system utilizes SUB G data modulation for UHF transmission, connecting up to 83 mic units, allowing 4-channel simultaneous speech without crosstalk. It also features many core functions such as video tracking, remote control of mic gain/frequency, FIFO/No-Delegate modes, 15-band EQ, feedback suppression, smart power management, and echo/echo delay effect. Remote control can be achieved on the control unit or via PC software, providing easy control and management of daily meeting sessions.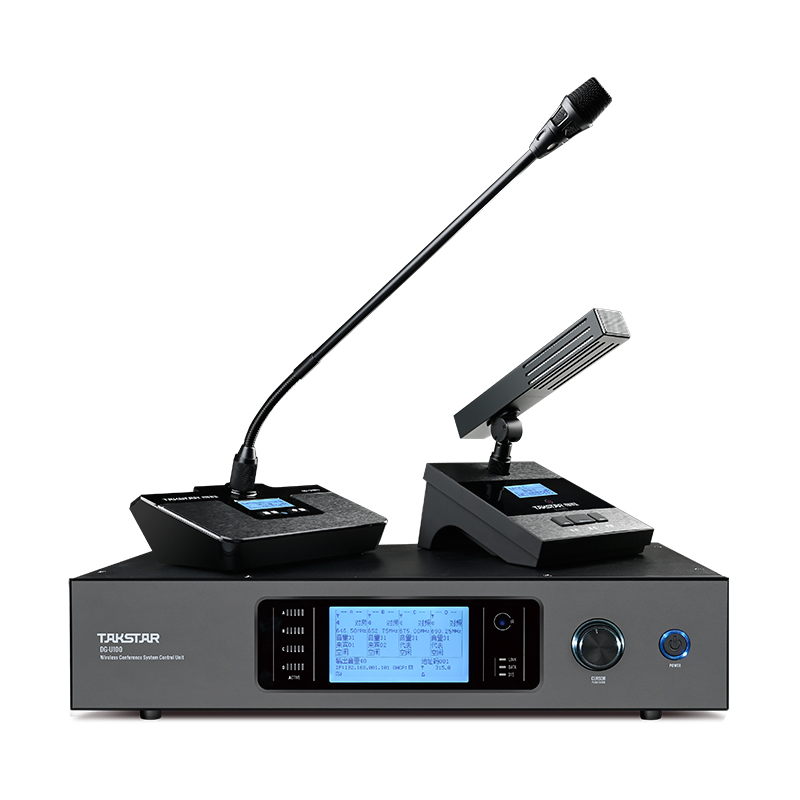 2. ESC-044 column speaker is composed of four 4-inch 25mm-core paper cone woofers and one 25mm-core NdFeB tweeter. The elastic and fatigue-resistant rubber surround accounts for quick response and sufficient dynamic in mid-bass performance. The speaker comes with a unique HF filter for audio brightness adjustment. There are three playback modes (Music, Vocal, Smooth) for different application requirements.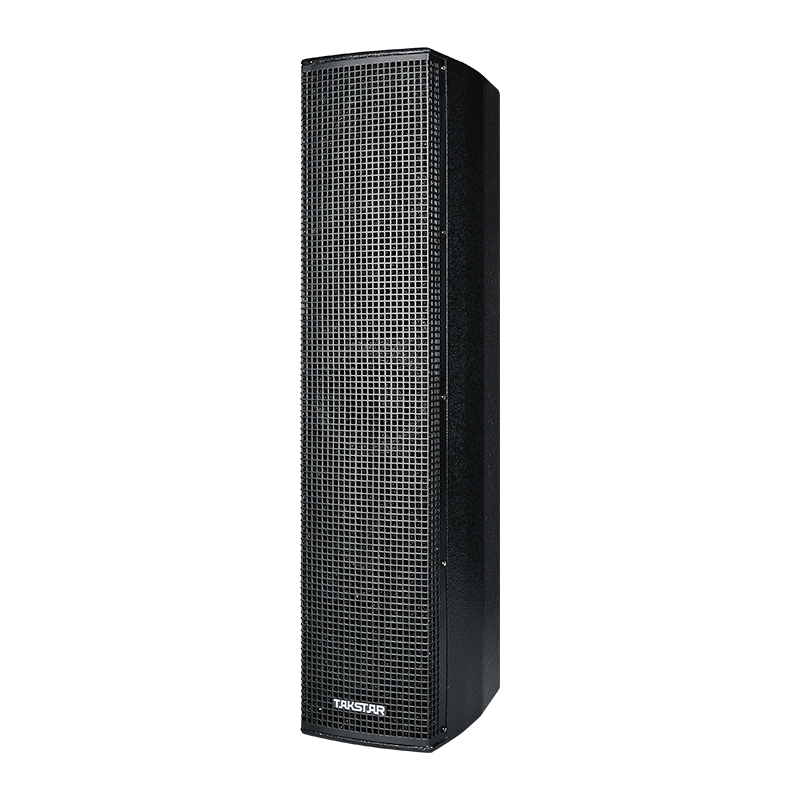 -EFFECT & FEEDBACK-
The one-stop audio system is highly acclaimed by the customer for its ability to provide clear natural audio and an intelligent and efficient conference experience with excellent stability and flexibility.